Eco Tourism, Birdwatching & Photography in Rio Lagartos,Yucatan with Diego Nuñez
and Rio Lagartos Adventures
Diego Nuñez is an experienced and trained bird guide, naturalist and avid fly fisherman) who pioneered eco-tourism in Rio Lagartos more than 25 years ago when he established his family business. He now works with his son Diego and daughter Andrea the area's only woman bird guide . They are also trained as fishing guides. Diego's wife Matildé runs the "Ria Maya Restaurante and Lodge
with help from daughter Andrea and son Diego.
Diego Sr. has attended many classes and workshops on nature, birds and preservation of the Bio-reserve and Petenes (freshwater springs) including the RARE Nature Guide Training Course Yucatan Peninsula (April 1998)
He studied with Barbara McKinnon in the first group of birding guides she helped train (1996) and he has continually helped to add to the bird counts that she keeps and publishes for Rio Lagartos and the Yucatan Peninsula. (See bird Lists in Navigation bar) He has personally added 6 new birds to the list. The count now is 395 for Rio Lagartos. and 555 for the Yucatan.
He is a qualified nature and birding instructor who has trained many of the guides in Rio Lagartos and has given classes to groups of children and adults to help further their appreciation and understanding of the natural world around them. He has worked extensively with Pronatura, Ninos and Crias and other environment and Government Groups such as Conap. Diego has assisted visiting scientists and biologists with their research efforts and has been involved with bird monitoring, flamingo banding, crocodile tagging, maintaining water flow in the area's freshwater springs, reforestation, as well as animal rescue work with sea turtles, flamingos, and area birds.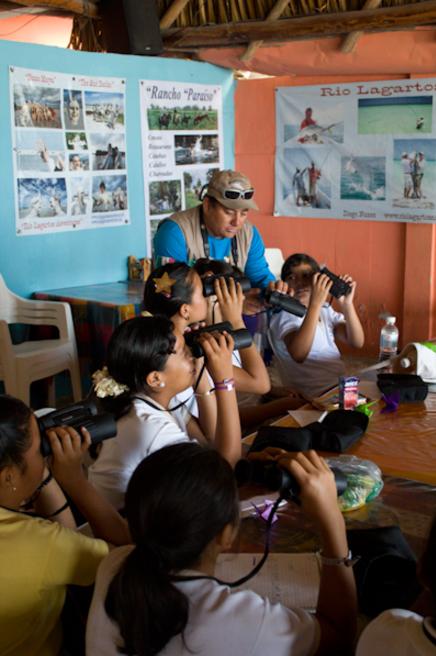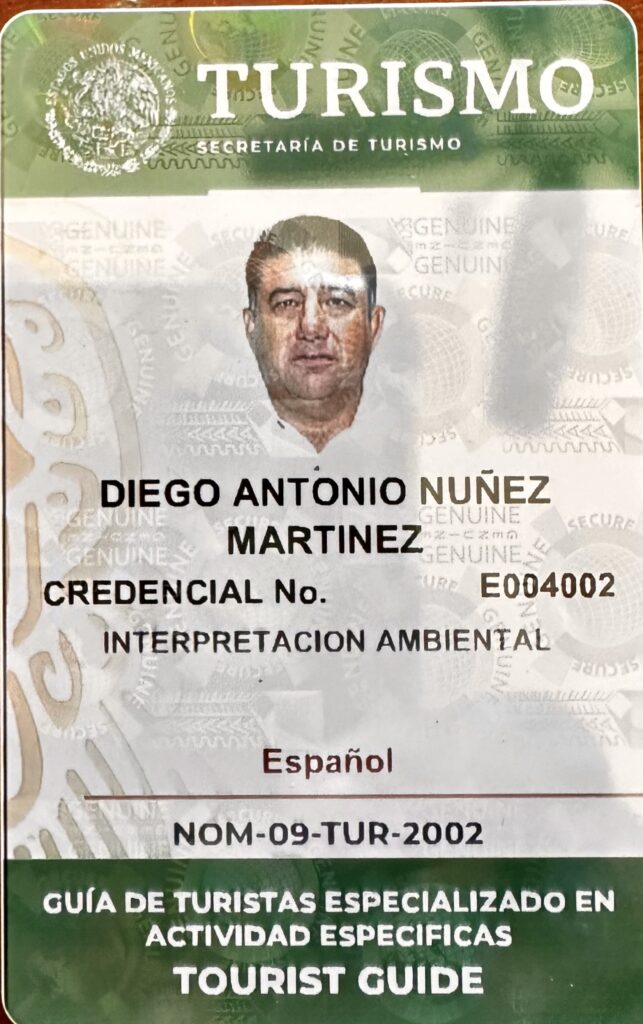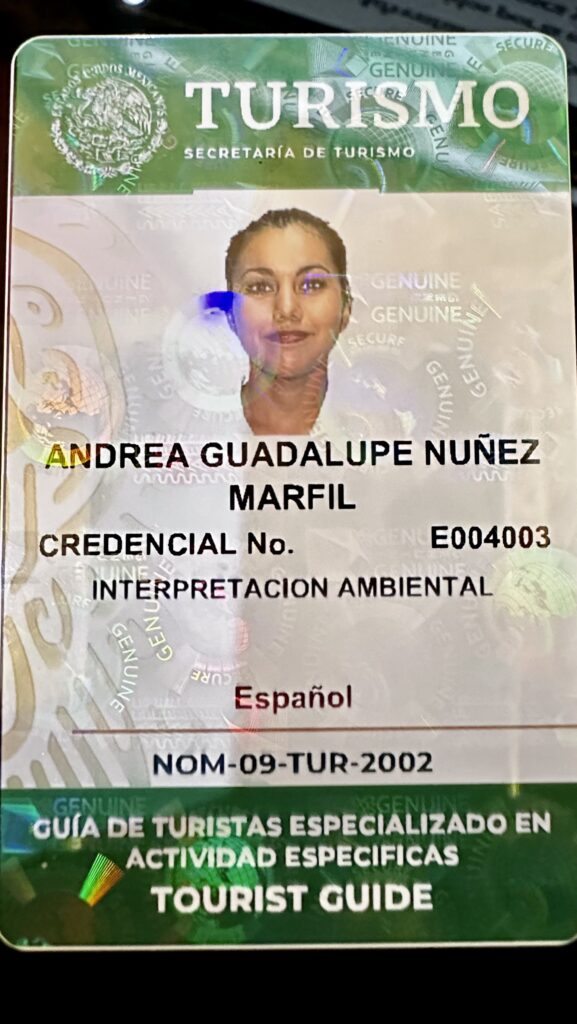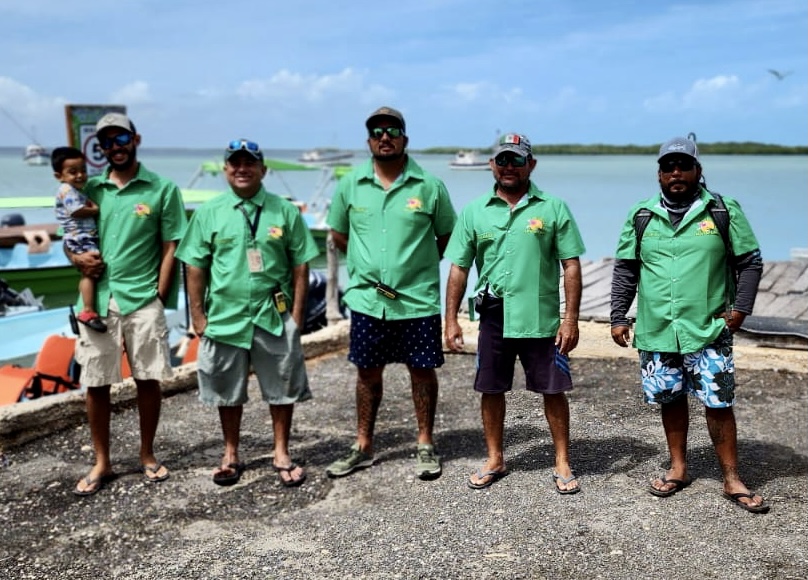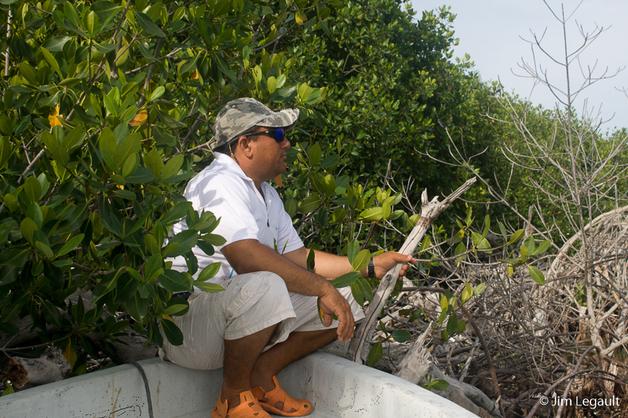 I am a very fortunate man. I grew up surrounded by this remarkable wilderness and It has given me and my family the opportunity to earn our living introducing visitors to its wonders. The Yucatan has a resident flock of 40,000 Flamingos that mate and nest here,395 species of birds have been reported and we have a biodiversity I believe second to none in Mexico. We have a remarkable selection of fauna and flora here. The tarpon fishing is some of the best in North America.
For nearly 25 years I have worked as a birding guide and have guided Tarpon Fly Fishermen. During that time, I have worked to promote the area to help attract fishermen and birders. There have been many changes here during those years that this promotion has created. As more visitors want to discover what we have to offer, increasing pressure has been put on the Bio Reserve. With more visitors have come more hotels and restaurants and many more tour operators bringing tourists to see the Flamingos. Few of the new operators understand the delicate balance of nature here or have training. Very little has been done by the Bio Reserve (which has very limited funds) to control and regulate the new operators. High speed trips through the estuary to the nesting grounds disturb wildlife and cause unnecessary pollution from outboard motors. Slow and careful trips need to be the rule. New regulations need to be enacted and enforced or we will become victims of our own success.
With the very low elevation of the land here we will be among the first to feel the serious results of climate change. Already we have flooding at high tides if accompanied by wind. Rises in ocean levels make the barrier islands which protect the villages and nesting and feeding grounds of the Flamingos vulnerable to erosion. The barrier islands are our main protection from hurricanes. A breech in the islands would cause major changes in the habitat Flamingos need for their survival.
There are many challenges, but I am optimistic that changes can be made if the political will can be found. People need to pressure and support their politicians to help them find the courage to make the changes that are necessary.
Diego Nuñez