Driving to Rio Lagartos from Cancun,
Merida, Valladolid
and Tizimin
From Cancun there are two options.
The first is Cancun-Valladollid-Tizimin-
Rio Lagartos.This a bit longer but takes about
the same amount of time and is a good option
if you would like to make a stop at the
ruins in Ek Balam which are north of Valladolid and well marked.
If you are coming from Valladolid you can
avoid driving through Tizimin(which normally results in getting slightly lost)At the turn off
to Tizimin take the road to Merida(a left turn)
at the next main intersection there will be a
sign for Rio Lagartos(straight ahead)
The second option is to take highway 180
west to Ignacio Zaragoza(km80)Turn right
after the checkpoint and follow signs to
Colonia Yucatan-Tizimin-Rio Lagartos
This a more interesting route,takes you through some nice villages and takes about
the same time It will probably involve
asking for directions but is worth the effort.

From Merida
Take the road to Motul-Tizimin. The highway
is connected to the Periferico (beltline) around
Merida on the northeast side.It is an easy
pleasant drive. At Tizimin the road to Rio
Lagartos is clearly marked.(about 3hrs.)
From Cancun 3 hrs
From Merida 3 hours
Valladolid 1 1/2 hrs
From Playa del Carmen (3 1/2 Hrs)
by way of Tulum and Valladolid
From Chichen Itza (2 hrs)
Note:Rio Lagartos does not yet have an
automated teller(cash machine)
Driving from Merida and Cancun is easy
and the roads are safe and well maintained.
Buses are plentiful and inexpensive from both Cancun , Merida, Valladolid and Tizimin. Taxis and vans are also available and can be an easy option for larger groups or for those who would like to come directly to Rio Lagartos. Taxis are easily found in Tizimin and Valladolid
The GoogleMap link above is very useful.
The drives from Merida and Cancun take you through some of the most productive ranch lands in Mexico. The drive north of Tizimin is especially nice. Allow a bit of extra time to enjoy the drive. If you are a birdwatcher allow even more.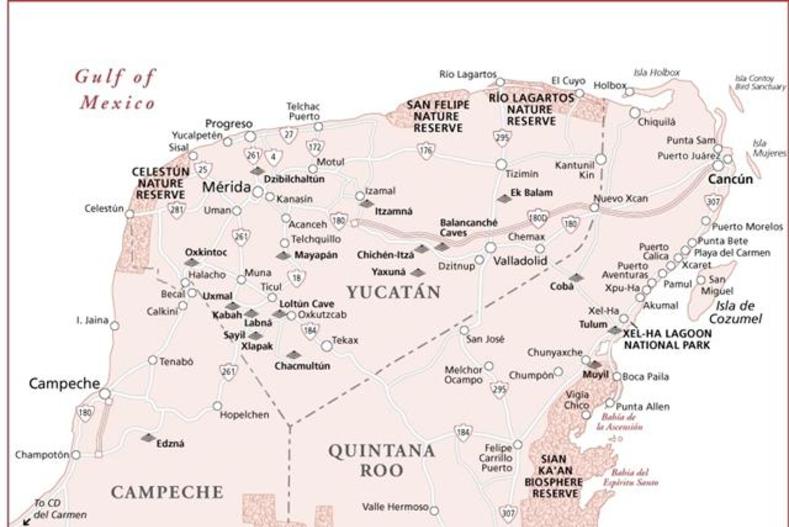 Be aware that freelancers will flag you down on the street entering town, offering tours, even saying Río Lagartos Adventures and the restaurant Ria Maya has closed or that Diego Nunez works with them—don't believe them! They harmless but annoying! They sell fast tours, collect in advance and take you to whoever gives them the lowest price. The boats are usually not insured or licensed, and the guides not experienced.